br>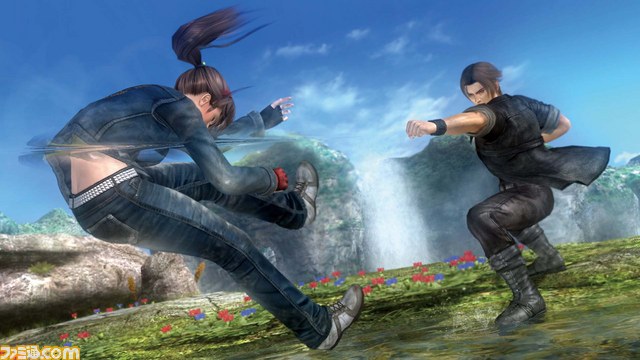 Welcome back Ein, and Welcome in another VF character.
According to
Siliconera
, "Team Ninja made more characters for Dead or Alive 5 Ultimate. When the game was revealed Momoji from the Ninja Gaiden series was confirmed to be in the game. Famitsu announced Ein from the Dead or Alive series and Jacky Bryant from Virtua Fighter will also be in Dead or Alive 5 Ultimate.
In Japan, Dead or Alive 5 Ultimate will be released on September 5 for PlayStation 3 and Xbox 360."
Update: Lost World has been shown off in Famitsu's screen shots. This is a stage from Dead or Alive 3 that was an infinite mountain drop stage.
This weekend we have two major events going on hosting Dead or Alive 5 across the world.
In the United States, @
SweetJohnnyCage
will be running
East Coast Throwdown V
in Morristown, NJ. SJC has been running tournaments for a few years now, and is even one of the main event coordinators for The Fall Classic coming later this year. This year's East Coast Throwdown will be held in the same event location as the previous year:
Hyatt Morristown
. Dead or Alive 5 will be taking place on the
Xbox 360
starting Sunday, May 19th at 2...
It's official, the new Dead or Alive project that
we were all teased to last week
with a glimpse of Momiji, has now been confirmed by this week's Famitsu magazine via
Siliconera
as
Dead or Alive 5 Ultimate
.
The magazine didn't share much information beyond that, only highlighting that it will include Momiji and additional characters, stages, etc. which, of course, we all already know.
But with E3 only a few mere weeks away, you can definitely...